On my way to develop a 3D printable camera drone I designed and printed different housings and frames. But I always came to a point where I had to make changes: sometimes I had to reposition the GPS unit, change the position of the camera, relocate cables, etc. I had to make a lot of changes. All this led me to discard the design again and again and develop a new one. This slowed me down a lot in the development, so I decided to create a flexible and quickly customizable development framework.
Overview:
Flight controller mount
Since there are many different flight controllers on the market, all with different dimensions, and I want to make my development framework as flexible as possible, I have developed a separate mount for the flight controller. This allows me to test a new flight controller at any time without having to print a completely new frame. All I have to do is change the holder and adapt it to the dimensions of the flight controller.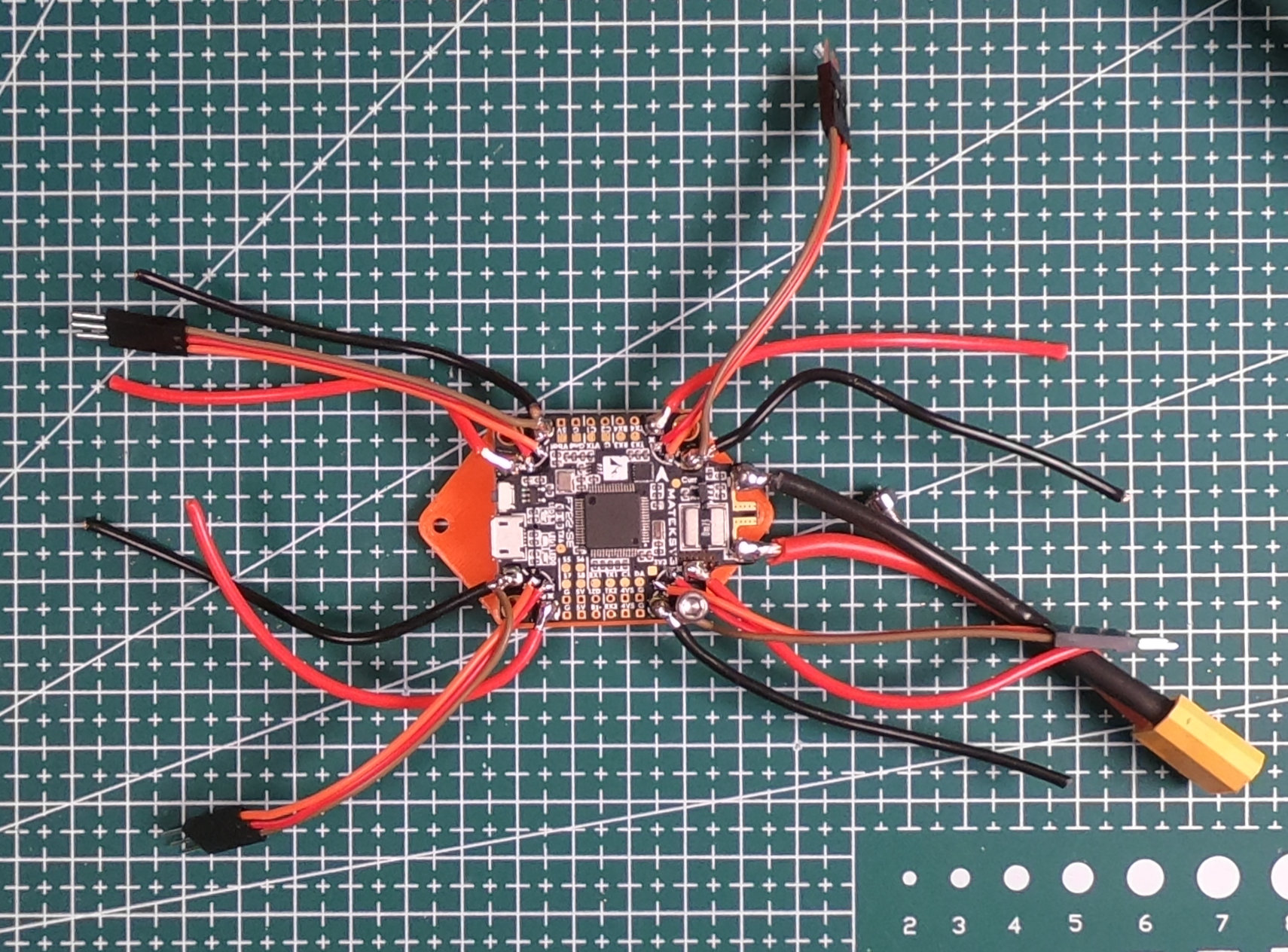 I use special thread inserts for 3D printing, which I melt into holes with a soldering iron. The procedure is really very simple: Since I printed the frame with PETG, I heat the soldering iron to a temperature of about 250 °C and carefully press the thread in.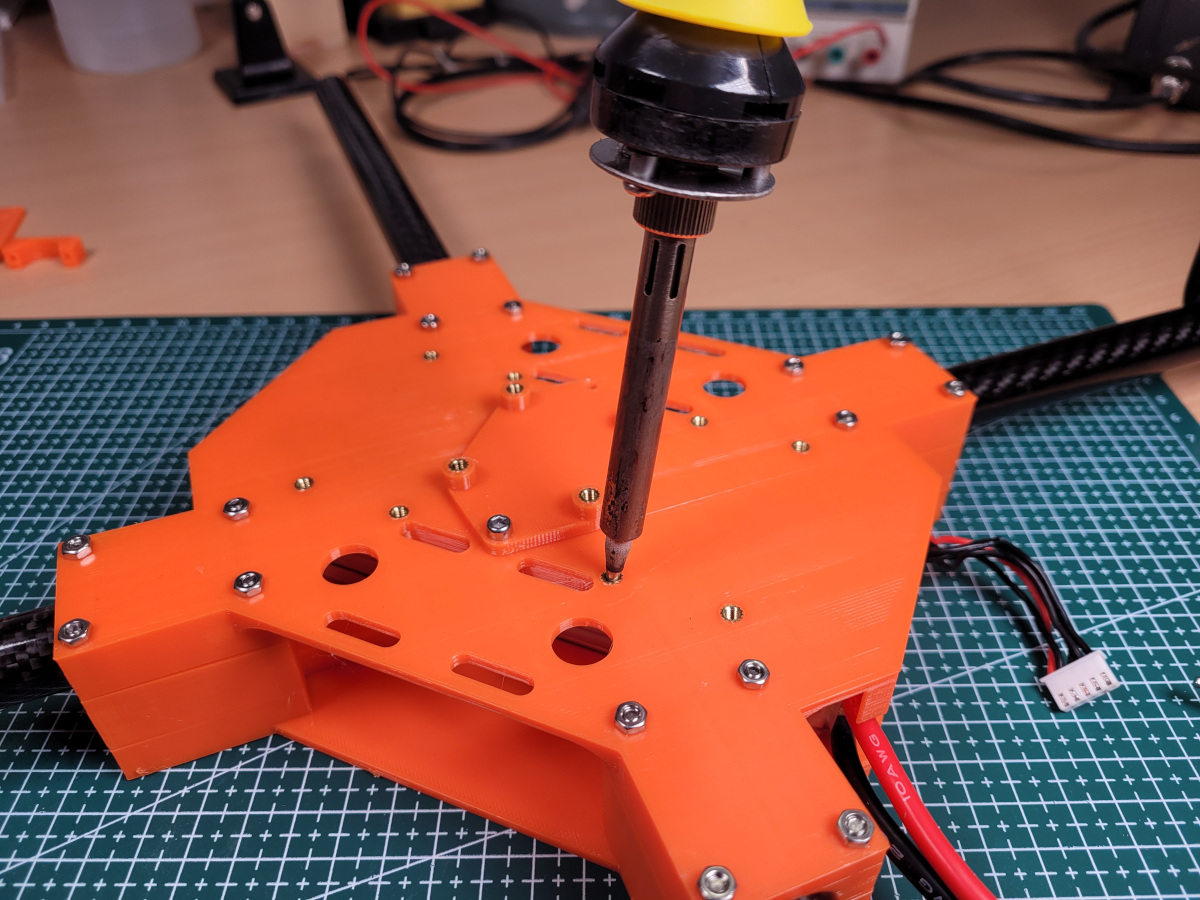 Motor mount
In my first attempts, I tried printing the arms of the drone with a 3D printer as well. Unfortunately, the attempt failed several times: the printed arms were either not stable enough or too heavy. I also had problems with the motor mount, because the motors get very warm during operation and this deformed the mount.
I therefore decided to use carbon tubes: they are light and very stable. For the motors I have designed a separate motor mount, which is surrounded by the motors with enough air, so that it hopefully does not come to deformation there. 
Frame weights
The weight of a drone is an important factor: not only does it affect the power consumption and thus the flight time of the drone, it is also important to meet legal requirements in some countries. However, I have to admit that I didn't pay much attention to weight when designing the first prototype. Nevertheless, I am quite satisfied with the result: The frame comes to a total weight of about 364.5 g.
| Part | Material | Infill | Quantity | Weight (g) | Total weight (g) |
| --- | --- | --- | --- | --- | --- |
| Case Top | PETG | 20% | 1 | 91.5 | 91.5 |
| Case bottom | PETG | 20% | 1 | 91.8 | 91.8 |
| Case clamp | PETG | 20% | 4 | 9.6 | 38.4 |
| Motor mount clamp | PETG | 100% | 16 | 1.9 | 30.4 |
| Motor mount plate | PETG | 100% | 8 | 3.7 | 29.6 |
| Flight controller mount | PETG | 100% | 1 | 7.6 | 7.6 |
| Carbon tube | Carbon |   | 4 | 18.8 | 75.2 |
| Total frame weight |   |   |   |   | 364.5 |
Parts list
Part
Quantity
M3x40 bolts
16
M3x10 nuts
16
1m Carbon tube (18mm dia)
(cut down to 4 pieces á 250mm)
1
M3 Threaded inserts
14
Download drone frame
Download all printable files from Thingiverse: Drone Development Frame